.
INTRODUCTION
This preview is my Tale of Two Cities, my Old Man and the Sea; this preview of the ILLINI wrestling team versus the grappling Nebraska Cornhuskers is my Brothers Karamazov. Will wrestling ever again witness prose reach such heights? You have chanced upon a wrestling preview writer at the peak of form, during his moonwalk, as he steps to the top of the Olympic podium; you are witnessing that final tug of the perfect wedgie in the corner of a grade school playground.
WHAT: Dual with Nebraska
WHEN: Sunday, February 21
WHERE: Assembly Hall, Champaign-Urbana, ILLINOIS
TV/STREAMING: ESPNU
LAST TIME OUT
The ILLINI are 5-2 after butchering Northwestern in Evanston by the score of 31-6. Before that, the Orange and Blue crushed the faded hopes and dreams of Indiana (39-3), Wisconsin (21-9), Ohio State (18-15) and Purdue (19-17). Alas! Losses were to Iowa (6-36) and Minnesota (13-25).





Nebraska is 6-1 and coming off a win over Michigan State (27-10). Prior to that, they've beaten Indiana (47-0), Wisconsin (21-15), Maryland (36-0) and Northwestern (26-10), while starting off the season with a 22-14 win over Minnesota. The Huskers' lone loss was to Iowa (6-31). Wisconsin is a common opponent, so let's look at the box score for that match:



Nebraska 21, Wisconsin 15

125: #11 Liam Cronin (NEB) dec. Ethan Rotondo (WIS) 7-6 (NEB *, WIS 0)
133: Kyle Burwick (WIS) dec. Tucker Sjomeling (NEB) 3-2 (WIS 3, NEB 2)
141: #9 Chad Red Jr. (NEB) dec. Dominic Dentino (WIS) 8-3 (NEB 5, WIS 3)
149: Drew Scharenbrock (WIS) dec. Brock Hardy (NEB) 7-6 (WIS 6, NEB 5)
157: Garrett Model (WIS) pinned Caleb Licking (NEB) (4:26) (WIS 12, NEB 5)
165: # 19 Peyton Robb (NEB) pinned Joshua Otto (WIS) (1:32) (WIS 12, NEB 10**)
174: #4 Mikey Labriola (NEB) dec. Jared Krattiger (WIS) 10-4 (NEB 13, WIS 12)
184: #11 Christopher Weiler (WIS) dec. #7 Taylor Venz (NEB) 11-10 (WIS 15, NEB 13)
197: #2 Eric Schultz (NEB) tech. fall Andrew Salemme (WIS) 30-13 (NEB 18, WIS 15)
HWT: #17 Christian Lance (NEB) dec. #7 Trent Hillger (WIS) 4-2 SV-1 (NEB 21, WIS 15)

*Nebraska lost a point due to a wrestling throwing their headgear
**Nebraska lost a point due to violation of mat area
FROM THE VAULT
Return with me to January 5, 2018, a day of sadness and joy. John Young, the ninth American to walk on the moon, passes away a hero. Forty-six years earlier, he commands the Apollo 16 mission. During that same diurnal arc, as we bid adieu to one hero, two more emerge. The ILLINI wrestling team meet the wicked Nebraska Cornhuskers at Huff Hall. Redshirt freshmen Dylan Duncan and Mikey Carr carry the standard for the ILLINI, winning crucial matches. But the teams finish with five wins apiece. It is IMAR's 18-2 technical fall victory that assure the home team the most-points-scored criteria win. Here is that box score:
#12 ILLINOIS 18, #20 NEBRASKA 17
133: #20 Dylan Duncan (ILL) dec. Brian Peska (NEB), 6-1 ILL 3, NEB 0
141 Mike Carr (ILL) dec. #8 Chad Red Jr. (NEB), 6-3 ILL 6, NEB 0
149: #8 Colton McCrystal (NEB) major dec.Eric Barone (ILL), 8-0 ILL 6, NEB 4
157: #9 Tyler Berger (NEB) major dec. #13 Kyle Langenderfer (ILL), 11-2 ILL 6, NEB 8
165: #2 Isaiah Martinez (ILL) tech fall Johnny Blankenship (NEB) , 18-2 ILL 11, NEB 8
174: Beau Breske (NEB) dec. David Riojas (ILL), 4-2 ILL 11, NEB 11
184: #12 Emery Parker (ILL) dec. #6 Taylor Venz, 9-7 ILL 14, NEB 11
197: Eric Schultz (NEB) dec. Andre Lee (ILL), 3-1 (SV-2) ILL 14, NEB 14
HWT: David Jensen (NEB) dec. Deuce Rachal (ILL), 7-2 ILL 14, NEB 17
125: #15 Travis Piotrowski (ILL) dec. Mitchell Maginnis (NEB), 4-2 ILL 17, NEB 17
Third Criteria – Total Points: Illinois 51, Nebraska 49 ILL 18, NEB 17
OUT OF BOUNDS
TM
.
.
PREVIEW
Wrestlestat.com, never a friend to the mighty ILLINI, are not sanguine about the Orange and Blue's chances in this dual. They foresee a 23-9 final score, favoring hated Nebraska, with wins from only Justin Cardani, Lucas Byrd and Mike Carr. I am sanguiner.
The ILLINI match up well with the scurrilous Cornhuskers.
I believe that both teams have two prohibitive favorites—the ILLINI at 133 and 149—while Nebraska will have strong favorites at 174 and 197. The opportunities for bonus points are about the same. This dual could come down to the heavyweights. So, let's look at the individual matchups.
125. JUSTIN CARDANI versus Liam Cronin. This is a big match for Cardani. Currently, he has a 2-5 record, while Cronin is at 6-1. The ILLINI needs a win for seeding in the future, and he needs to stop a streak of bad luck. He has had two matches against highly-ranked wrestlers (Heinselman and McKee) decided against him because of a single instance of freak flopping around, while a third match was awarded to WIN's #3 wrestler (DeAugustino) who never took a shot and rode parallel with both legs.
He was the better, more aggressive wrestler in each of those three losses.
It is time for the superior wrestler to win the match. Wrestlestat.com is predicting a 6-5 win for the ILLINI warrior. That projected result is not based on their rankings, as Cardani is at a monumentally under-valued #42, while Cronin sits at #16. So, why does the service predict the #42 wrestler to beat the #16 fellow? Because Cardani whupped Cronin three times last year by the scores of 6-2, 6-4 and 9-5. Additionally, the kid from Champaign Centennial is 16-12 versus common opponents, while Little Red is at 12-19 against the same guys.
Being 3-0 against an opponent, I would think, would provide a mental edge for Cardani. He has faced twenty-one minutes of the best Cronin has to offer and outscored him 21-11. Adding to the mental edge is the fact that the ILLINI beat the guy at Indiana (Brock Hudkins) who was likely the impetus for Cronin to transfer to Nebraska. This is Cardanalorian time!
133. LUCAS BYRD versus Alex Thomsen. This could be bonus time for the ILLINI. Byrd has been the word to the tune of a 6-1 Big Ten record. His opponent sports a 2-3 ledger. Wrestlestat.com predicts the #28 ILLINI to win a 10-4 over the #49 Thomsen. I think it could be worse for Nebraska than that. To start off, Lucas Byrd is criminally under-valued at #28. He's at #14 with a bullet in the WIN Magazine rankings, and he was just added to Flo's.
The Cornhusker stumbled into qualifying for NCAAs last year at 125 despite an 11-15 record against Division One wrestlers. There are hardly any common opponents, but Byrd recently majored Minnesota's Boo Dryden, while that same Gopher wrestler almost majored Thomsen (2-9). Moreover, Northwestern's Chris Cannon majored him this year, and that tells me that Byrd can do the same. Or better.
Thomsen is a short offense, duck and single wrestler, who'll hook a leg while riding and look for the cross-wrist tilt. I see that working on wrestlers who aren't as good as Lucas Byrd.
141. DYLAN DUNCAN versus Chad Red. We are nearing the end of the season already, and that has historically been Chad Red time. He's a two-time AA, and he qualified for Nationals last year. Thing is, he always has some bumps along the way. In his redshirt freshman year, he had eleven bumps. The next year he had 14, going 16-14 against D1 wrestlers.
In a dual, I don't think you bet any spreads involving Chad Red. For example, Dylan Duncan majored Northwestern's Colin Valdiviez, but Red won 6-4. As another example, the Cornhusker beat Northwestern's Frankie Tal-Shar in an extra match by a 3-2 score. Danny Pucino beat the same guy 6-2.
Red has learned the Burroughs double, keeping his knees moving when his opponent is off balance and backing up. He's also very quick with the single to his opponent's right leg. I've been frustrated with the Nebraska kid wrestling on his knees against great ILLINI grapplers, much the same as I was frustrated with Jordan Burroughs. A way to put the burden on Red is to reach over and put your hands on the top of his shoulders, then work into a front headlock. The advantage swings to his foe. That's what Jaydin Eierman did in this match: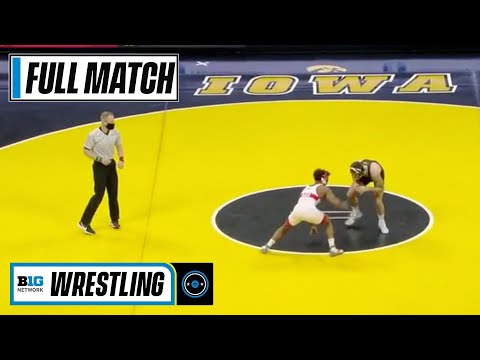 Duncan and Red have pretty similar records against common opponents, with Dylan at 17-13, while Red's at 15-9. They haven't wrestled each other. Red will be favored here, but this will be a match for the upper crust wrestling connoisseur who enjoys great technique. The wrestlestat.com forecast is for a Nebraska victory by the score of 10-3. I think this is a much closer match than that, as Duncan has really improved this year. They both have only one loss (Eierman) on the year.
149. MICHAEL CARR versus Brock Hardy. This young fellow from Nebraska won four state championships in Utah and was touted as a top recruit before embarking on a two-year Mormon mission. He already has a Cael Sanderson haircut, and, no doubt, a dozen short-sleeve dress shirts, a wife at home, 2.5 kids and a cat named Sir Fluffy Shortcake.
So, he's not really a "true" freshman, but this is his first year in college, and he's off to a 4-3 start. His losses are to Iowa's Max Murin (2-6), Northwestern's Yahya Thomas (1-4) and to Wisconsin's #62 Drew Scharenbrock (6-7). His best win, by far, is over #34 Michael Blockhus of Minnesota. Wrestlestat.com is predicting a 6-4 win for Mikey Carr.
As a freshman, Brock Hardy, who has the least Mormon name I can imagine and one of the best WWE names, is a lunchpail, strong, forehead-grinding, tie-em-up type, who seems to be cutting some weight. He favors the collar ties, snap-downs and throw-bys. It will be interesting to see what he does with Mikey Carr's movement and stalking style.
With Hardy cutting weight, and Carr always in great shape, I look for the ILLINI to wear him down by the third period and do what he needs to do to win.
157. JOHNNY MOLOGOUSIS versus Caleb Licking. In the video that I saw of Licking, he favored the claw ride and would throw in both legs. Even his claw ride features one boot in. In neutral, the Husker will look for the single on his opponent's left leg.
Licking and Mongo have traveled the same route to get where they are. Both are fifth-year seniors facing really tough conference wrestlers at this weight. Both had spot starts in duals earlier in their college careers, and both have wins against Indiana, while the fellow from Nebraska has added a win against Maryland. His record is at 2-4, while Mologousis wants to improve on his 1-6 score sheet.
He can do that if he wrestles like he did against Indiana or against Ohio State's Elijah Cleary. This is his chance to jump a seed or two for the conference tournament. Wrestlestat.com disagrees, as that algorithm has Licking the winner by a 6-5 score. This is Mologousis' opportunity to be the hero, and so he's my upset special.
TO BE CONTINUED …