.
.
INTRODUCTION
​​​​​​It is not often that one can stand in awe in front of a thing, anything, that is the greatest of all time. The GOAT. You are standing or sitting in its presence now. It is not solely because this Preview provides both an Introduction and Conclusion, although the classy nature of that fact lends to its lustre. No, there's more. You see, neither Charles Dickens nor Mark Twain could have written an ILLINI Big Ten Tournament Preview that included video. Videography was unknown at the time.

And that makes this the GOAT.

WHO: All Big Ten Wrestling Teams
WHAT: Big Ten Conference Wrestling Tournament
WHEN: Saturday-Sunday, March 6-7
WHERE: State College, PA
TV/STREAMING: BTN (streamed later on BTN+)
MULTIMEDIA PRESENTATION
We have asked the Champaign-Urbana Junior League Players to perform a dramatic presentation of the Big Ten Wrestling Tournament for our Preview, and they were kind enough to oblige. Without further adieu, then, here are Ms. Rita Fairbanks and the rest of the Champaign-Urbana Junior League Players:
.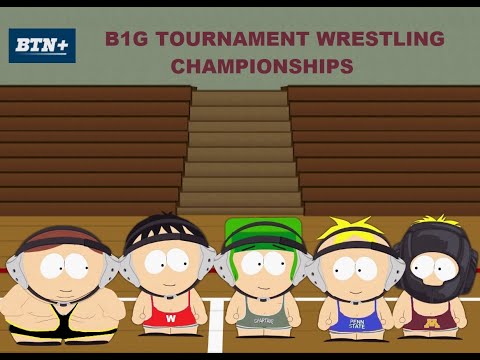 .
A LITTLE HISTORY
The Fighting ILLINI rank second all-time in team Big Ten titles with seventeen. ILLINOIS also owns 77 individual Big Ten titles, fourth-best in the conference. On March 4, 2018--on the same day that The Shape of Water won four Academy Awards, including the award for Best Picture, the ILLINI's Isaiah Martinez chalks up his fourth Big Ten Championship, joining an exclusive club of sixteen conference wrestlers to ever achieve such an honor. That short list includes ILLINI head coach Jim Heffernan, who won titles in 1983 and 1985-1987. IMAR's record at the BTT was 14-0, with ten wins coming against ranked opponents.
B1G NCAA TOURNAMENT ALLOTMENTS
The Big Ten Conference was screwed by the NCAA in awarding tournament slots. There will be wrestlers from smaller conferences who don't wrassle good getting in before ranked B1G wrestlers. When it comes to wild card bids, the ILLINI were fortunate to have nine wrestlers with a Coaches' Ranking in the top 33 during the last poll. However, D.J. Shannon was shaky at #32 and will need a good conference tournament to get in. Trey Sizemore was unranked. When you consider the Coaches' Rankings in juxtaposition with the NCAA's allotments, the conference is undervalued by seventeen (17) wrestlers. Here are the conference allocations:
.
PREVIEW
125. JUSTIN CARDANI. Anybody who has watched him wrestle this year knows that the Cardanalorian is much better than his 2-6 record. He's been the victim of freaky flops, a ref who wouldn't call stalling, and in his last match, a couple of discrete mental errors. The ILLINI was a national qualifier last year mostly because of his 7-2 dual meet record in the Big Ten, as well as other wins against quality (NCAA-qualifying) non-conference foes. He did not earn a bid at last season's BTT.

He will need a better tournament this year.

His excellent Coaches' Ranking of #16 will help if he needs a wild card, but the Big Ten has been allocated only eight slots at this weight, which includes seven allocations and a champion, while the conference has twelve wrestlers in the Coaches' Poll. The B1G wrestlers ranked ahead of him are Spencer Lee, Liam Cronin, Michael DeAugustino, Patrick McKee, Devin Schroder, Dylan Ragusin, Malik Heinselman and Rayvon Foley. Justin lost to the ones in italics, and that accounts for every single one of his six defeats.
.
.
There are eight conference wrestlers in the poll ranked ahead of him. He can beat at least five of them on a good day, but he'll need a good day in State College, PA. The kid from Champaign has no bad losses. Eric Barnett and Brock Hudkins are ranked behind him, and he was wins against those two. The final Big Ten wrestler on the bubble is #29 Nic Aguilar of Rutgers.

My guess is that Cardani will be seeded anywhere from #9 to #11, depending on what the coaches do with PSU's Robert Howard and Michigan's Jack Medley, and he'll have lots of work to do to earn an automatic bid to the NCAA tournament.

133. LUCAS BYRD. In my opinion, Lucas Byrd can strip off his singlet and do the Hokey-Pokey on the mat while live on BTN and still earn a bid to the NCAA tournament. He leads the team with seven wins, and he's only got one loss. The Big Ten has been allotted eight bids at this weight, and it had seven wrestlers ranked in the first Coaches' Poll. Lucas Byrd was undervalued at #13 in those rankings.

The conference is top heavy with three wrestlers in the top four. Then, you have Byrd at #13, Chris Cannon at #14, Jordan Decatur at #20 and Boo Dryden at #21. Byrd beat Decatur and Dryden, was ducked by Cannon, and his loss is to Austin DeSanto.

I think the NWCA missed out on some good wrestlers who deserve to be in their poll at this weight, including Nebraska's Sjomeling or Thomsen, Michigan State's Jordan Hamdan and Purdue's Jake Rundell, even Indiana's Kyle Luigs. Because of the duck, I see the ILLINI earning the fourth or fifth seed over Chris Cannon. Ragusin might claim it, but he was a "Covid Duck."
.
.
141. DYLAN DUNCAN. Here's another ILLINI who'll be in the Big Dance no matter what. Duncan has a 4-2 record, with the losses to the numbers one and five wrestlers in the Coaches' Poll. And that last loss to #5 Chad Red was very controversial. It was also on national television for all the seeders to see. The B1G is even more top-heavy at this weight, sporting four of the top five, while Duncan slides in behind those four at an undervalued #13.

There are eight ranked wrestlers in the conference, and the NCAA is allocating eight spots (7 auto bids and the champion) at this weight. Behind Dylan in the rankings, you have Michigan's Drew Mattin, Minnesota's Marcos Polanco and Purdue's Parker Filius. I don't see any of those guys beating the 3x National Qualifier and Senior ILLINI, so we'll likely see a rematch at the BTT between the #4 Chad Red and the #5 Dylan Duncan.
.
.
Long time starters at ILLINOIS have a history of capping off their Senior years with an AA. Dylan Duncan is right there, and he can help himself out with a good BTT. That would be justice for the brilliant technician who has had to face injuries and a difficult pull over the years.

149. MIKEY CARR. I checked back at the list of probable starters for the Nebraska dual, and Mike Carr was listed (and nobody else) at 149. So, it appears that something came up, or the coaches felt Carr needed a rest for precautionary reasons. We'd likely see Carr with great seeds at the BTT and at the NCAAs. The coaches respect him with a #8 ranking. If a substitute is needed, then perhaps the ILLINI field Danny Pucino, who has a great record at 141, but is giving up serious weight at 149.

As it stands, the conference is allocated seven bids, and that includes the champion. Yet, there are twelve B1G grapplers in the first Coaches' Poll! You have Sammy Sasso, Max Murin, Kanen Storr, then Mikey Carr, and then Griffin Parriott, Yahya Thomas, Graham Rooks, Brock Hardy, Mike Van Brill, Luke Gardner, Drew Scharenbrock and Michael Blockhus.

On top of that, you have a possible switcheroo with Ridge Lovett filling in for Brock Hardy for Nebraska, although Hardy did get an extra match against ILLINOIS, and there's no telling whether PSU will go with Luke Gardner, as they have a total of three wrestlers to choose from at this weight. I think Mikey Carr gets the three seed here, as Kanen Storr just lost to #75 Peyton Omania of Michigan State, and Ridge Lovett's best win is against #51 Danny Pucino who is a 141-pounder. So, the seeds should be #1 Sasso, #2 Murin, #3 Carr, #4 Storr and #5 Lovett (or Parriott or Thomas).
.
.
157. JOHNNY MOLOGOUSIS or LUKE ODOM. We had all thought that Mongo would man the spot, but he didn't wrestle against the Cornhuskers. As the ILLINI coaches are tight-lipped about things like this, and my sources have dried up, I can't say who's gonna go for the Orange and Blue. One thing is certain, it would take a beautiful Christmas Covid miracle for either of the ILLINOIS kids to qualify for nationals. Fingers crossed!

I'm just kidding. Stay safe, everybody.

There will be eight bids handed out, which includes the champion at this weight, but there are nine conference wrestlers in the first Coaches' Poll, and that doesn't include Ryan Deakin, who wasn't listed in it due to inactivity. He's been very active since then. Whomever wrestles for the ILLINI will have to steal a bid from either Michigan State's Chase Saldate, OSU's Elijah Cleary and, on top of that, beat out Nebraska's Caleb Licking.
.,
.
165. DANNY BRAWLNAGEL. Part of the legendary and greatest street-fighting tandem Dublin has ever seen, Little Brawny really helped himself out with the win over Peyton Robb the other day. He has an unblemished record, and he's the kind of kid that coaches want on their team, so I think they'll seed him accordingly at #2. The ranked B1G wrestlers in the first Coaches' Poll included #2 Alex Marinelli, #6 Danny Braunagel, #8 Ethan Smith (the ILLINI holds a win over him), #12 Joe Lee, #15 Andrew Sparks, #18 Peyton Robb (the ILLINI beat him as well), #19 Cameron Amine (Brawny beat him 2x last year), #22 Jake Tucker, #25 Nick South and #33 Gerrit Niejenhuis.

That's ten ranked Big Ten wrestlers, but the conference is only allotted a total of eight bids. As a #2 seed, the ILLINOIS kid can expect a bye in the first round followed by a matchup between the #7 and #10 seeds. That could be any of this lot: Amine, Tucker, South or Niejenhuis. That's a tough second-round match! In any event, given his national ranking and record, Brawny2 is a shoo-in to the NCAA tournament. Now, he wrestles for seeding.
.
.
TO BE CONTINUED ...