The full preview can be ogled at the
ILLINI Wrestling Blog and Forum and Beyond
.
______________________________
A DAY IN HISTORY
It was Sunday, January 7, 2018.

The number one song on the Billboard charts in the United States and the United Kingdom was Perfect by Ed Sheeran. Jumanji: Welcome to the Jungle ($10,663,927) beat out the number two at the box office that day, Star Wars: Episode VIII -- The Last Jedi ($6,806,626). Your kid brother had to wait nine more days for the release of Street Fighter V: Arcade Edition, and it was killing him.

A Winter Weather Advisory of freezing rain south of Interstate 80 almost doomed the biggest event of the day, a wrestling match between the University of ILLINOIS and Northwestern. Instead, it just meant that a heartbroken Northwestern team would have to travel back to Evanston in dreary and dangerous conditions.

You see, the Wildcats could almost taste victory.

Their hammers, Sebastian Rivera, Ryan Deakin and Johnny Sebastian had built a 17-15 lead for their team with only the heavyweight match remaining. They had their #19-ranked fatty ready to go, and he was sure to win!

Then, with only seconds left in that match, THE DEUCE WENT ON THE LOOSE! He used an arm throw of all things to take down his Wildcat foe and win 3-2, giving the ILLINI a wonderfully satisfying come-from-behind victory over the nerd empire. Jump to 7:35 of this video:



.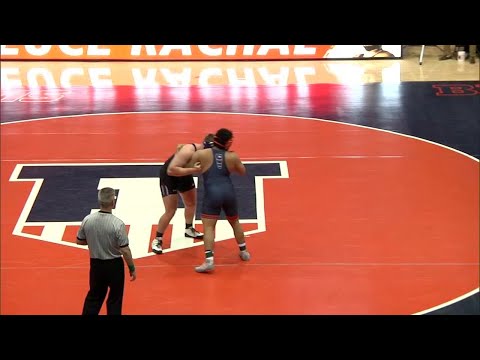 .


Here's how that dual looked in a box score:
#12 Illinois 18, Northwestern 17

125: #12 Sebastian Rivera (NU) dec. Travis Piotrowski (ILL), 9-3 ILL 0, NU 3
133: Colin Valdiviez (NU) dec. #20 Dylan Duncan (ILL), 12-6 ILL 0, NU 6
141: Mike Carr (ILL) dec. Alec McKenna (NU), 3-2 ILL 3, NU 6
149: #9 Ryan Deakin (NU) major dec. Eric Barone (ILL), 12-0 ILL 3, NU 10
157: #13 Kyle Langenderfer (ILL) dec. Shayne Oster (NU), 6-4 ILL 6, NU 10
165: #2 Isaiah Martinez (ILL) fall Michael Sepke (NU), 2:33 ILL 12, NU 10
174: Johnny Sebastian (NU) dec. David Riojas (ILL), 16-8 ILL 12, NU 14
184: #12 Emery Parker (ILL) dec. Mitch Sliga (NU), 8-3 ILL 15, NU 14
197: Regis Durbin (NU) dec. Andre Lee (ILL), 4-3 ILL 15, NU 17
HWT: Deuce Rachal (ILL) dec. #19 Conan Jennings (NU), 3-2 ILL 18, NU 17
THE TEAMS
The ILLINI are 4-3 in duals having started out with a win over Buffalo (28-9), a loss to NC State (12-27, a win over Chattanooga (32-9), followed by a loss to Pitt (6-30), after a very nice Midlands, the ILLINI lost to #2 Iowa (19-25) and beat #13 Wisconsin (18-17). Finally, two nights ago, the ILLINI beat Purdue 31-9, a total team flex.

Northwestern is 2-2 on the season. They started the year with a 20-13 win over Virginia. After the holiday season, the Wildcats beat Minnesota 18-11, then lost to Iowa 9-27. Yesterday, the Mildcats lost to Nebraska 15-22.

Since Iowa is a common and recent opponent, let's look at that box score:
#2 Iowa 27, #11 Northwestern 9

133: No. 11 Chris Cannon (NW) over Cullan Schriever (IOWA) (Dec 4-1)
141: No. 2 Real Woods (IOWA) over No. 10 Frankie Tal-Shahar (NW) (Tech Fall 17-2)
149: No. 4 Yahya Thomas (NW) over No. 8 Max Murin (IOWA) (Dec 3-2)
157: No. 17 Cobe Siebrecht (IOWA) over No. 9 Trevor Chumbley (NW) (Dec 6-3)
165: No. 10 Patrick Kennedy (IOWA) over HM Maxx Mayfield (NW) (Dec 4-2)
174: No. 17 Nelson Brands (IOWA) over Ankhaa Enkhmandakh (NW) (Dec 8-2)
184: No. 8 Abe Assad (IOWA) over Evan Bates (NW) (MD 10-2)
197: HM Andrew Davison (NW) over Zach Glazier (IOWA) (Dec 7-6)
285: No. 3 Tony Cassioppi (IOWA) over No. 4 Lucas Davison (NW) (Dec 3-2)
125: No. 1 Spencer Lee (IOWA) over No. 4 Michael DeAugustino (NW) (Fall, 2:01)
and so on....