For Gail Rush and myself it is the last wrestling season. Our sons have wrestled since they were little boys and as parents, we have followed the journey from the very first takedown, from kids through the high school level to the collegiate wars.
Clayton Rush and Mario Morgan were arguably the two best non DI wrestlers from Illinois in America entering the 2010-11 college season . It has been a long road to this point for them. This is their story.
There is so much that has gone on over the years that I thought it would be kind of cool if both Gail and myself reflected back, journaling in stages and posting them here for those that are still on the wrestling path to peruse. So periodically, we will add chapters until we get to that final match in March.
******
Just in case you have been hidden under a rock the last 15 or 20 years Clayton Rush, a former high school state (Aledo) champion and 2010 and 2011 2x college national champion is the dynamic 125-pound superstar for NCAA DIII Coe College (Iowa).
His mother Gail, a frequent poster at illinoismatmen.com can best be described as the ultimate wrestling Mom. So much so, that she was voted W.I.N. Magazine Fan of the Year by national wrestling writer Jason Bryant. Imagine for a moment how good of a fan you have to be to beat out all of the crazy wrestling fanatics in America. She has ridden the back roads of America taking her son to practice, clinics, meets and tournaments. And now the road is about to end.
Mario Morgan is the super quick 141-pound National Champion and 3x All American from Mt. Carmel high school and the NCAA DII 7x National Champions, Nebraska-Omaha. In addition, unless you are also under that same rock you know that he is my son and a former multiple time kids state champ from the Harvey Twisters.
Both entered their final national NCAA tournament, ranked number one in their respective weight classes as the favorite to win the title. Clayton and Mario wrestled to their seeds with Rush winning his second individual title and Morgan his first individual title but also his third team title.
When I started this column many years ago, I wanted to share our experiences in the wrestling world. I was not a wrestler and had no one to tell me how this all was suppose to go. Eventually I figured most of it out, through trail and error and even became nominated last year for Illinois Wrestling Reporter of the Year by Illinois Wrestling Officials and Coaches Association. While my sons, competitive college career winds down, I much like Gail will be torn with many, many emotions and flooded with even more memories. In a strange way we will gain closure through our journal of our experiences of the wrestling lifestyle.
Stay close to this column, Gail and I will update our experiences. In chapter 16 Clayton discovers Greco - Roman wrestling and a national title along the way. This chapter features Clayton's experience only. Mario will return in chapter 17.
I'd Rather Throw You by Gail Rush
I finally get to talk about my favorite style. Greco. Shortly after Clayton's season ended his freshman year, he got a phone call from this guy, Craig Fallico. Never heard of him, but then why should we? He was, after all, north of I80! Anyway, he wanted to know if Clayton would be interested in being on the National Junior Greco Dual Team. Junior? He was Cadet age. Hmm. Interesting. And even more interesting was the fact that not only had he never competed in Greco, he had never even practiced it. I think he may have been 1 of maybe 3 kids in the entire state of Illinois in high school that could make 98 pounds. We talked about it and the decision was made. Yes. We had no idea what we were in for and actually how difficult the first year was going to be to learn this new style. And speaking of I80, did you know there is nobody south of I80 that does Greco. There are no clubs that practice it. We had only one option. Bam Pustelnik. I called Bam and we arranged to get some tapes from him from the Junior Olympics. We watched the tapes. That was it. It was all we had. He was off to St..Louis for training camp and all set up to met what would be some of the most influential coaches and teammates he would ever have.
I would love to talk in detail about each of the 4 tournaments, but that would easily turn this chapter into it's own book. I'm will somewhat briefly do each season, or I guess I should say "briefly" is my plan!
I'm actually not sure where to start. The coaches…Coach Fallico, Coach Wetzel, Coach Kirgan, Coach Holland, Coach Flores, Coach Powell. The teammates…Matt McNasty McNaughton, Brett Robbins, Mike Tamillo, Connor Beebe, Daniel Dennis, Cartice Lloyd, Jimmy Chase, Jonathan Drendel, Vlad, Peter Kowalczuk, Mark Cadet Stenburg, the brothers Williams, the brothers Bokowski, Big Joe Fagiano, Scott Power Bomb Penny, BJ Futrell, Peter Lovass, Max Nowrey, Danny Malouf, Cory Stassi (he named a pair of his shoes his "Stassi's"…he got them from Cory!)Mark Schultz, Rick Loera, Danny Monaco, Lillishawn Coleman, Izzy Montemayor…there were so many amazing kids and I think I could tell a story about each one. Bubba still keeps in contact from time to time with a few of the boys, and I, of course, still follow closely those who are still wrestling in any style.
Clayton had to compete in Greco State his freshman year to earn his way onto the team. Actually, he was supposed to compete all 4 years at Greco state, but injuries prevented that from happening his sophomore and senior years. He won FS state and Greco state his freshman year and only competed in Greco State his junior year and won that too. He really amazed me at this new style. The only practice he had was at the training camps and maybe throwing somebody around in our room here at home…if he could find anybody that would let him! He had some big wins over the years at he Duals…Jordan Oliver, Donte Butler, Kellen Aura, and my two favorites, Andrew Long and Zach Sanders. There were probably others but those are the ones I remember the most.
http://www.youtube.com/watch?v=yrWHSqBpm7A
Each year our Greco team got better. Enid, Oklahoma 2004. Where in the heck is Enid, Oklahoma? Well…it's where the Duals were!! If I remember right, his freshman year he was at 98 pounds and they won the consolation bracket with Coach Falico, Coach Powell, and Coach Flores. I give ALL the credit to these 3 coaches for Clayton developing a love for Greco Roman wrestling. They were so knowledgeable and just plain fun. Coach Falico was always dancing and Coach Powell and Coach Flores were amazing. They, along with Coach Kirgan took a kid who had seriously no knowledge of Greco and turned him into a real competitor. Brett Robbins was my hero that year. He wrestled his last match literally on one leg. He had injured his ankle early in that match rather badly and couldn't put ANY weight on it. He sucked it up and not only finished the match, but won! And Bubba looked at Greco as his "break"…a break from shooting and from having to defend shots. It was so foreign to him that is was more like a completely different sport. I loved it from the start…ok…maybe not the very start, but from when I finally understood the rules and the scoring!
His sophomore year the duals were again in Enid and he was at 105 pounds but wrestled 112 a little too. I think they ended up getting 4th that year. They made a coaching switch, which to this day I don't understand. No more Coach Falico or Coach Flores. Coach Wetzel came on board. Don't get me wrong…he was great…I just thought the others worked and if something isn't broke, why try to fix it. The boys liked him and it was good. I remember Daniel Dennis hurt his back. I went with him over to the trainer's table and they asked me if I was his mom. I told them "today I am," and I was! Rick and I would go to the store and get fresh strawberries and give them to the boys so they at least had something to eat before weigh-ins. Speaking of weigh-ins…Rick Loera. I have never seen anybody put on so much weight after Greco weigh-ins and spend all night (the other boys stayed up in shifts helping him cut!)taking it off for FS weigh-ins. His dad even took him to a movie to keep him from eating! There are just too many stories…
His junior year was a blast, with the exception of Bub cutting weight!! He had committed to 112, which is what he wrestled regular season at with no problems. But June was an eternity and a huge growth spurt from February! He looked terrible and had a few mental moments, but he made it…thank goodness. He would have done anything for Coach Powell…that's how highly he thought of him, and still does. The Duals were moved to Oklahoma City. It was an actual city…unlike Enid…with a choice of restaurants and everything! We took a loss to Missouri…a huge loss…and actually ended up wrestling them again in the finals. Boy it was close…we lost but only by a few points. I even remember the mat and not only where we were sitting but who was around me. Kevin Drendel, the Pennys, we were yelling fools. Some people from Texas told us after one of the duals that they wanted to be with us…we were having wayyy to much fun! AND we were the USAW National Junior Greco Dual Runner Up!! I think it must have been Coach Powell's lucky socks!! (He always wore them…They were navy and orange OPRF socks and he wore them with his sandals!)
Bub's senior year was again in Oklahoma City. He was at 119. I always drove to the Duals. I didn't mind the drive. Bubba's freshman year Courtney flew into St Louis and drove with me…she shopped and slept while I watched wrestling!! His sophomore year Rick went with me and junior year I drove by myself and FINALLY his senior year Rick went again. I insisted. He had missed out on so much fun that I told him I didn't care about work…he was coming. And he was glad he did. Clayton always rode home with me, with the exception of his senior year. We picked him up at the airport in St. Louis. His junior year we stopped at the National Wrestling Hall of Fame in Stillwater and got to meet Pat Smith and watch Eric Guerro work out…pretty cool. Anyway, back to the duals. We had a few new faces on the team…and what a line-up we had! Top to bottom we were solid.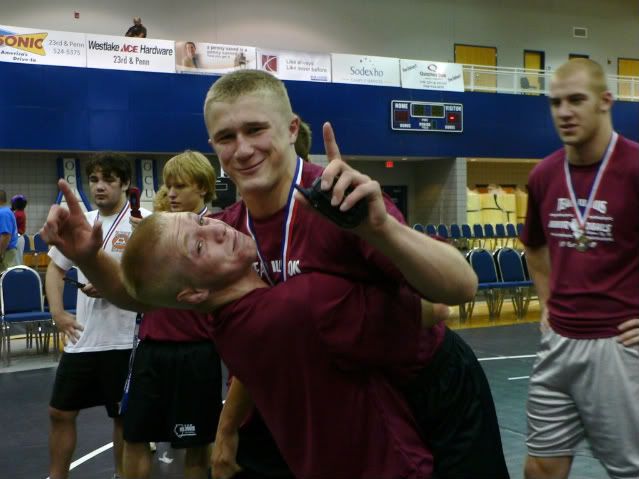 98 - Max Nowrey
105 - BJ Futrell
112 - Kent Williams
119 - Clayton
125 - Jimmy Chase
130 - Lillishawn Coleman
135 - Kyle Williams
140 - Danny Monaco
152 - Jonathan Drendel
160 - Mandela Jihnson
171 - Clayton Kendal
189 - Scott Penny
215 - Joe Fagiano
275 - Peter Kowalczuk
We won our pool. And Clayton reached one of his goals. All he ever wanted to do was to be like Scott Penny and do a power bomb. He finally got to do it…and almost got kicked out of the tournament. Luckily only one official thought that…the other two didn't. We won the first one in the championship bracket. We won our second one in the championship bracket. One more win and we were in the finals. And we had Iowa. Their team was literally a "who's who" in Iowa high school wrestling. And funny thing…Coach O, Coe's head coach, had driven to Ok. City to watch the duals. He left before the dual with Iowa. I'm pretty sure he thought Iowa would win with ease. BUT Illinois Greco would have none of that. I thoroughly enjoyed calling him to tell him about the dual that ILLINOIS won!! Here's the line-ups and results.
98 - Max Nowry over John Skarda (Ia) pin
105 - BJ Futrell over Tyler Hatch (Ia) pin
112 - George Ivanovo (Ia) over Kent Williams 6-2, 0-3, 3-1
119 - Clayton over Andrew Long (Ia) 5-3, 3-1
125 - Jimmy Chase over Matt McDonough (Ia) 6-1, 4-1
130 - Nate Moore (Ia) over Lillishawn Coleman TF 5-2, 7-1
135 - Kyle Williams over Dalten Jensen (Ia) TF 6-0. 6-0
140 - Danny Monaco over TJ Moen (Ia) 4-3, 4-3
145 - Derek St. Jihn (Ia) over Mark Stenberg 6-0, 3-0
152 - Esai Dominguez (Ia) over Arben Balazi pin
160 - Jonathan Drendel over Robert Kellogg pin
171 - Grant Grambrall (Ia) over Clayton Kendal TF 6-0, 6-0
189 - Scott Penny over Dylan Wrage (Ia) pin
215 Byron Tate (Ia) over Joe Fagiano 4-2, 0-6, 4-3
275 - Eric Thompson FF
Final team score…ILLINOIS 36 - Iowa 33
Huge win for us and now we have Minnesota in the finals.
We had a killer start to most duals. Max, BJ, Kent, and Clayton. They all won their matches. Clayton beat Zach Sanders, which was huge and really got the team fired up and we could see that we could actually win this dual! Jimmy won at 130. Danny won at 140. Mark "Cadet" Stenberg won at 145. Scott Penny won at 189 and Peter won at 275. If you know anything about the team scoring at the duals…it was huge that every one of our guys that lost scored a point, which gave us one team point. Every kid did his part and WE WERE THE 2007 USAW JUNIOR GRECO DUAL NATIONAL CHAMPIONS with a score of Illinois 38 - Minnesota 23!!
What a blast! The boys were crazy…running and sliding on the mats, yelling…us parents were of course yelling and hugging and taking pictures. I think we outlasted the boys when it came to taking pictures!
There is absolutely nothing I would do differently. Nothing I regret except that it was over. I'm positive Clayton would 100% agree.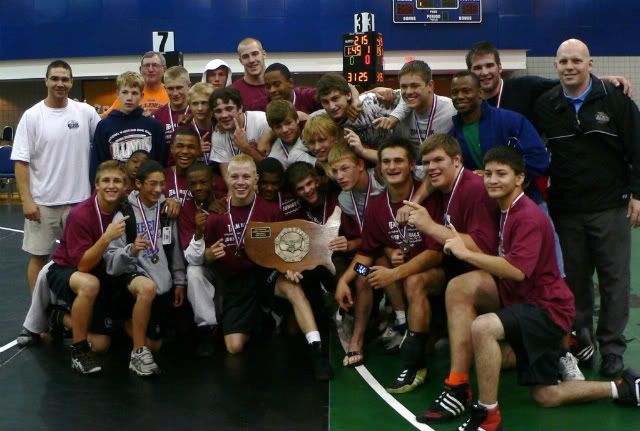 If you have a son who has the opportunity to wrestle on a dual teaam, DO IT! Some of my best memories, and I have a lot, are from the Greco Duals. I can't say enough about the boys… and Coach Powell…well…he will always be the toppest of the top notch in my book. I miss Coach Powell. I miss the boys. I miss all the parents who became my friends. I miss the Duals. I miss Greco….